Testimonials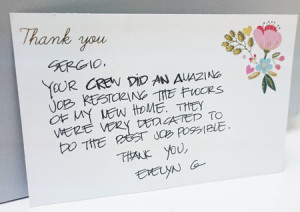 These are some of the Testimonials we've received over the years from some of our best customers! Please read them to see how we've been serving our clients.
Joshep & Pat K.
Recently hired Doctor Marble to restore our marble floors and some bathroom grouting and tile work. Finding Doctor Marble was like hitting a home run. The staff was attentive, professional and curtious. They arrived on time and did the job as stated. My spouse who is legally blind was able to see the shine on the bathroom floor. Areas of the floor in the kitchen and bedroom that were in tough shape now looks new. The staff even filled in the floor areas that were pitted. I have already recommended Doctor Marble to a friend. She recently bought a condo. Doctor Marble does what they say they will do. The job took 3 days to complete. Each day the staff cleaned up before they left. We are very happy with the job.
The Johnson's, Coconut Creek, FL
Great job! We are very happy with all the work done in our home. Marble looks amazing! Better than when it was installed originally. We would highly recommend Sergio and his team. Wishing you continued success…
Shirley Attias, Fort Lauderdale, FL
Dear Sergio, thank you so much for the wonderful work which was done in my home Dr. Marble you do miracles!!! My floors are like brand new – your employees are so professional and honest , what a pleasure to find reliability in this day and age. Please use me as a reference anytime. Good luck to you and your crew. Thank you again, you went beyond the call of duty.
Len Sanders
Sergio! Thank you very much for the marble repair in 2604, Mario did a great job!
Ruth Ann Smith, 12/03/2014
Dear Dr. Marble, I want to thank Sergio and his professional team for the excellent job they did on the restoration of marble in our home in L'Ambiance. The team arrived on time, were very professional and kept us informed. You may feel free to use me as a reference if you ever have the need to do so. Thank you to Dr. Marble.
Eveltyn G.
Sergio, your crew did an amazing job restoring the floors of my new home. They were very dedicated to the best job possible. Thank you!
Shirley Attias, Fort Lauderdale, FL
Thank you for the special job. I want to commend you on your neatness in preparation and for being so accomodating. You did a very professional job and my floor looks amazing. I have received many compliments. Thanks again.
Stanley J. Smith, Delray Beach, FL
Thank you for the work you guys did at my home. Everything looked great and I look forward to referring more business to your company. I appreciate your patience and professionalism during the last few months in working around my various work projects.
Michael Herman, Ft. Lauderdale, FL
I have been meaning to tell you how pleased we are with the appearance of our marble floors. You and your men do an outstanding job. Your employees show up as scheduled, work very neatly and complete the job as promised. In the ten plus years we have lived in our apartment, you have done floor maintenance for us on numerous occasions. Most recently, you did an extensive job of re-finishing our marble floors. They actually look better than when they were new. When I am asked who does the floor maintenance in our apartment, I proudly give your name with a very strong recommendation. Continued success.
Tom Pennavaria, Creative Response Group
"My slate flooring was looking dull and stained. Doctor Marble came in, moved my furniture and resealed the slate in one day. They did it on the weekend. We were back to work on Monday in what looked like a new office"
Jim Mcculla, , JMI Property Management
"Doctor Marble, not only gave me the best price, but they did it in two days, what other companies said would take a week. For commerical uses, you can't beat Doctor Marble."
D. Thompson – Fort Lauderdale FL
"Thank you for the outstanding work by you and your crew on our bathroom. You have undoubtedly met my high expectations. The diligence punctuality, expertise and courtesy of you and your staff made this process one of uncompromised excellence. It is rare to find contractors of your caliber, and I am thankful to have hired you. I wish you continued success".
Best Regards,
Mr. Jizzi – Boca Raton FL
"Sergio and his Doctor Marble team transformed the kitchen floor of the home in which we are planning a move, to one that could be in "House Beautiful." The next morning, we could see our reflections in the gleaming marble tile. We have no regrets at all about calling on Doctor Marble and are pleased to call them "our guys" when it comes to home improvement"
Mr. M.Glick – Miami Beach FL
"We're very pleased with the professional and courteous help we received from Doctor Marble Restoration and Sergio . The work was completed as promised and we recommend very highly their services for marble and porcelain tile restoration."
S. Butler – Pompano Beach FL
"Superior work. Always a pleasure to have Doctor Marble in my house. Courteous, clean, commendable !."
N. Bodde – Delray Beach Fl
"I wanted to send you a note of appreciation for the excellent work Doctor Marble. recently did in repairing and restoring the marble throughout my condo. The marble was in poor condition and your people restored it to a pristine condition. Your price was reasonable and it was a pleasure doing business with you."
Mary Thomas – West Palm Beach FL
"The acknowledgment references the Doctor Marble for a job well done on my marble floor. The job was completed satisfactorily and professionally. I would use them again and recommend them to
anyone."
N. Pense – Fort. Lauderdale FL
"Thank you for the wonderful job you and Doctor Marble Restoration did in our condominium. It truly looks like new. It was extensive and time consuming job, but you and your men completed it in a professional timely fashion. I would be happy to recommend you and your company to anyone."
S. Bor – Jupiter FL
"Dotor Marble Restoration came and cleaned and polished the marble island in our kitchen as well as cleaned and sealed our granite counters. They did a fine job and made the marble look like new. They worked carefully with less dust than I expected. I would recommend them for similar projects."
Please Use The Form Below to Leave Your Testimonial
The testimonials given are from customers speaking only in a personal capacity and are not compensated for the opinions given.