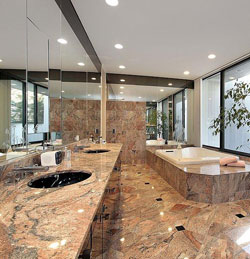 The deep shine we see on polished stone is achieved by rubbing the stone with a series of abrasive materials. The process is very similar to sanding a piece of wood. The stone is rubbed with a coarse abrasive grit, followed by finer and finer grits until the stone becomes smooth. The scratches left behind from one grit are removed by the next, creating finer and finer scratches. The process continues until the scratches are microscopic. The shine on the stone is achieved by abrading the surface to the point at which it becomes extremely smooth and starts to develop some reflectivity. The shine on the stone is thus a product of optics. This same optical property can be observed on a pond. When the wind is blowing and the surface of the pond is wavy, it becomes difficult to see a reflection; when the air is still and the pond is calm, a deep reflection can be observed. So in order to achieve a deep shine on your stone all that really needs to be done is to smooth it until it shines.
Deep Cleaning System
Deep cleaning system is a process that will remove most heavy dirt or stains from the surface of the stone. Over a period of time, household dirt will accumulate and disfigure the stone and create a old-aged dull appearance. Doctor Marble can remove dirt/stains within the damage stones, repair the surface, and provide a protective coating that will shine and dazzle your guests.
Grinding / Leveling
Grinding (leveling) is the process by which the surface is aggressively sanded to remove large stocks of the stone. This process is usually recommended when stone tiles are uneven. Lippage is the term given to uneven tiles that are set higher than one another. Grinding is recommended when the lippage exceeds 1/8 inch or if one desires to have a completely flat floor. There are some very good reasons for grinding a stone floor flat. A flat floor is easier to maintain; since there will be no lips where dirt can accumulate. The grinding process, if performed correctly, will also eliminate depressed grout joints—the grout will be even with the tile's surface so that dirt and grime can't accumulate. A completely flat floor eliminates all unevenness, giving the floor the illusion of being monolithic (one piece).
Note: a stone floor does not necessarily have to be grinded to remove scratching. Skilled Doctor Marble craftsmen can repair it without grinding.
Just as there are several good reasons for grinding, there are also some disadvantages. Grinding is very time-consuming and expensive; with some hard stones, like granite, it can take an entire day to grind 50 square feet. The grinding process is also very messy. Copious amounts of water are needed to grind a stone floor and produce heavy slurry of stone and water. If adjacent areas such carpet, wallpaper, baseboards, etc., are not protected properly, water damage may occur. Before deciding on grinding, all the above considerations must be carefully evaluated.
Honing (or Rehoning)
Honing is the process of smoothing the stone with the use of abrasives. Although not as aggressive as grinding, it does require the use of water, and can also be quite messy. Honing is performed to remove scratches, and will not remove lippage (uneven tiles). It can, however, round the edges of the stone, giving a smoother finish to the edge. The honing process is usually achieved with the use of diamond abrasives, although some contractors prefer silicon-carbide bricks or screens. Which abrasive is used is not as important as the skill level of the craftsmen. Honing can leave a stone floor with very little shine, although some stones will acquire a satin-like luster at very high hones. You may hear the contractor talk about grit sizes when discussing the honing-and-grinding process. The following table will serve as a guide to grit sizes. The lower the number, the more aggressive the grit. Generally, grinding is what takes place using any grit of 60 or below; honing begins at 120 and proceeds upwards. A skilled Marble Restoration Services Ltd. craftsman will generally stop at a 6 00 or 800 on marble before polishing. With granite, it is usually necessary to proceed through to the highest grit. Some craftsmen may choose to polish with diamond abrasives to the highest grit, producing a very high polish, while others may choose to switch from a diamond to a powdered abrasive. Whichever method is chosen, the final result is what counts.
Sealing
You absolutely must seal ANY natural stone tile including marble. All stone is porous and WILL absorb liquids and can easily be stained by acidic items such as mustard and other foods and oils! If the sealer you put on dulled the floor it is most likely the wrong type of sealer for your marble. I recommend Sealers with silicone to seal both the marble and the grout. The shine on the marble comes from a mechanical grinding, sanding and polishing process not from a topical product. Be VERY sure that the cleaner you use on this is a low pH non acidic cleaner made for natural stone. Most other cleaners (yes including dish soap and Windex) are mildly acidic and will slowly remove the sealer and with any porous stone the improper cleaner can make your beautiful new floor a maintenance problem. Be very sure never to use any kinds of acids on your marble as they will not clean problem areas but will ruin the surface of the stone. It can be repaired if this were to happen but would cost $$ per square foot to have done. With proper care you have an especially beautiful floor that will give you great pleasure for a lifetime.
Diamond Bright – Polishing
As previously mentioned, the high shine observed on stone is the result of smoothing it with fine abrasives. Most craftsmen will use diamond abrasives to hone the stone, and then switch to a powdered abrasive to achieve the final polish. Powdered abrasives contain superfine crystals of aluminum oxide or tin oxide. These powders are usually white, but can be yellow, brown gray or black. The abrasive powder is worked into the stone with a floor machine (buffer) using water and cloth or polyester fiber pads. The powder is worked into slurry until a polish is achieved. The craftsman removes the slurry with a wet-vac and rinses the floor to remove excess powder. It's a relatively simple procedure, but it requires a good deal of practice for several reasons. Many polishing powders contain a compound known as oxalic acid, which is used to speed the polishing process, and if too much powder is used, the stone can burn. A burned floor has a characteristic dimpled appearance; the stone will have a molten, plastic shine. This burned appearance is commonly called "orange peel," for reasons that are obvious to anyone who sees it. If the craftsmen orange-peels the floor, he will have to re-hone the floor to remove it. On the other hand, if too little powder is used, the final polish may not be achieved. You can be comfortable to know that Doctor Marble craftsmen are familiar with the powder polishing technique.
Stone Color Enhancing
Provided by the use of penetrating sealers impregnator formulated to enhance or enrich the color of your stone.