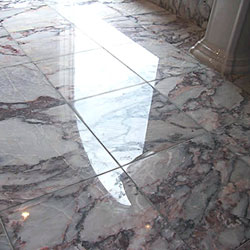 Marble is a metamorphic rock resulting from the metamorphism of limestone. Metamorphism can be defined as the solid state recrystallization of pre-existing rocks due to changes in heat and/or pressure and/or introduction of fluids. This metamorphic process causes a complete recrystallization of the original rock into an interlocking mosaic of calcite and/or dolomite crystals.
What does this mean to the marble floor owner? Marble is one of the softest stone flooring products on today's market, however it is one of the most popular choices due to its natural beauty. Marble is highly porous. So it is very easily etched by acids such as orange juice, tomato juice, and vinegar.
Taking Care of it Right Away
The first step in maintaining and cleaning your marble floors is ?wipe it up immediately?. This is so important with marble floors as salt dissolves and pits marble and acids will etch marble. Any liquids or solids which contain salt or acids are your marble flooring?s worst enemy. So if you spill it, wipe it up immediately with warm water, followed by drying the surface with a soft cloth. To further protect your marble flooring, it is recommended that you use small carpet rugs at any entrance and around sinks as these rugs will also assist in trapping soil, dirt, water or any ice-melting salts brought into your home.
Maintaining the Beauty
To maintain the beauty of your marble floors, weekly maintenance should include cleaning with a damp mop and then drying the surface with a soft cloth or chamois. Drying the surface will bring back its natural shine. It will also avoid any water stains. This is very common on marble floors. Always dry your marble floors with a soft cloth. Use a neutral, non-abrasive cleaner to ensure all spots or stains are removed once per month. Never use vinegar to clean marble flooring as it will destroy the finish.
It is very important to dry your marble floors after each cleaning with a soft or chamois cloth. To further enhance the beauty of your marble floors you will want to polish or wax them. Using a wax designed for no wax floors is recommended. There are also products which are safe for marble flooring, designed to mop and shine in one step, saving the home owner valuable time.
Basic Care:
Marble should be washed with a clean, soft cloth and fresh warm water. Then, as an additional safeguard, wash your marble twice a year with warm water and a mild detergent. This should remove any residue that may have become ingrained.
Do not use sandpaper or cleaners containing grit or abrasives on polished marble services.
Use coasters under all glasses, particularly those containing alcohol or citrus juices. Many common foods and drinks contain acids that will etch or dull the stone surface. Do not place hot items directly on the stone surface. Use trivets or mats under hot dishes and place mats under china, ceramics, silver, or other objects that can scratch the surface.
Cleaning Procedures and Recommendations for Floor Surfaces: Dust-mop interior floors frequently using a clean untreated dry dust mop. Sand, dirt, and grit do the most damage to natural stone surfaces due to their abrasiveness. Mats or area rugs inside and outside an entrance will help to minimize scratching of the stone floor. Be sure that the underside of the mat or rug is a non-slip surface. Normally, it will take a person about eight steps on a floor surface to remove sand or dirt from the bottom of their shoes. Also, do not use vacuum cleaners. The metal or plastic attachments or the wheels may scratch the surface.
Other Surfaces:
Clean stone surfaces with a few drops of neutral cleaner, stone soap, or a mild liquid dish washing detergent and warm water. Use a clean rag mop on floors and a soft cloth for other surfaces for best results. Too much cleaner or sp may leave a film and cause streaks. Do not use products that contain lemon, vinegar or other acids. After washing, rinse the surface thoroughly with fresh water and dry with a soft cloth. Change the rinse water frequently. Do not use scouring powders or creams; these products contain abrasives that my scratch the surface.